May 2005 Paul Cox & Blake Powell were guests on the Pete Sargeant Radio Show on Resonance 104.4fm. Londons eclectic music station. Paul sang live with Pete and Blake played a selection of tracks from the Note-Records catalogue.

The theme of the show was colours all the tracks played had a colour in the title, tracks from Donald Fagen to Led Zeppelin were played

The Program goes out live at 12:00 noon Sundays and is also broadcast to the world on the web.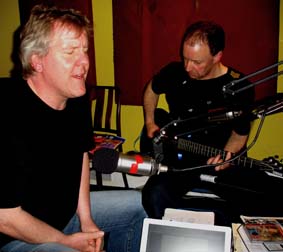 Paul and Pete play live on air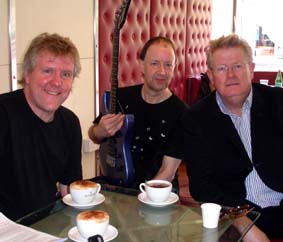 Sunday 8th May
PAUL COX will be live on the..
The Peter Sargeant Show
Resonance104.4FM in London
and on the Net at
www.resonancefm.com
Listening Stream
the show starts at 12:00 noon
He will sing live and feature tracks from his new CD
Paul, Pete & Blake
Paul Bondarovski - Midnight Special Blues Radio - France July 2005
Note Records: Bringing Sidemen to the Front

Not quite a news for the blues lovers and musicians in the U.K., but a great example for the rest of the Blues Universe. A wonderful person Blake Powell has set up his independent label Note Records to support and promote organic original music (blues, soul, jazz) made by professional musicians who are generally sidemen or session men working with major bands and who would not normally get an opportunity to record and publish their own material. In Blake's own words, "Our mission is to nurture and promote these artists in the best possible way so that a wider public can appreciate them and their music. We are always looking for new artists!"

Hey, blues buddies beyond the scene, take a Note! Or, better, click here and visit yourselves the Note Records & Note Music excellent Website!
http://www.ms-blues.com/