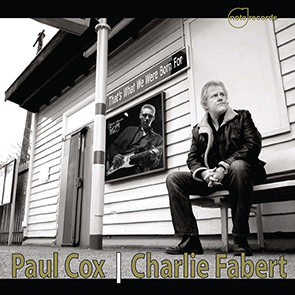 One of Britains finest blues/soul vocalist' Paul Jones, BBC Radio 2 Paul Cox has been described as the "heir apparent to Chris Farlowe" and "the Pavarotti of British Blues". He is quite simply one of the best blues/soul vocalists in the country, right up there with Paul Rodgers, Farlowe and Frankie Miller in his prime. Paul Jones of Radio 2 fame cites him as one of his favourite voices.
Since his first pro gig in 1978, with a rock band from Rugby called Oyster, Paul has cut over 14 albums, opened for Ray Charles and Eric Clapton and shared the stage singing with an impressive list which includes Paul Rodgers, Snowy White, Ruby Turner, Sam Brown and Bonnie Tyler. He's also fronted several top class bands including Frankie Millers Full House, John Slaughters Blues Band, Tim Hinckley's Heart and Soul as well as his own bands, Soul Intention, The Paul Cox Band, and Fire and Water. Over the years he has picked up vast experience of festivals having played many the world over, including the prestigious Montreux Jazz Festival.
Pauls' early musical memories are of singing like those he'd heard on the radio as a teenager in the 70′s and on his influences he says, "It's probably subconscious, but more readily soul-blues style and passionate voices like Otis Redding, Al Green, Paul Rogers, Joe Cocker and Robert Plant". In the most recent years Paul has been working primarily with the brilliant young French guitarist Charlie Fabert who has built a glowing reputation and is considered one of the most gifted guitarists of his generation. Together they have toured andreleased the album 'That's What We Were Born For'; judging by their presence over the UK this year, this Euro partnership is certainly a successful one!
In the last few years Paul has produced several standout CD's along with sold out appearances at  RONNIE SCOTTS, THE HIDEAWAY in Streatham, toured extensively in both the UK and Europe. Also in his time he has appeared on PAUL JONES RADIO 2 BLUES show on 6 different occasions as well as a 1 hour Jazz FM special along with performances on RADIO WEY, BBC RADIO CAMBRIDGE and BBC OXFORD.

Highly respected for his soulful approach to his brand of rocking blues, the consummate professional who produces live performances that never disappoint. Be prepared to be entertained!! Paul Cox guarantees great music, terrific vocals and a steamy mix of original material and traditional blues!

2013 promises to be a terrific year with a new CD out in the summer and another tour planned.