SUNDAY 6th JANUARY
The Manor,
Biggin Hill
Andy Brown Benifit Gig

SOUL SURVIVORS
plus PAUL COX
NICKY MOORE
JEFF MARTIN
GEOFF WHITEHORN
The concert was recorded for future release...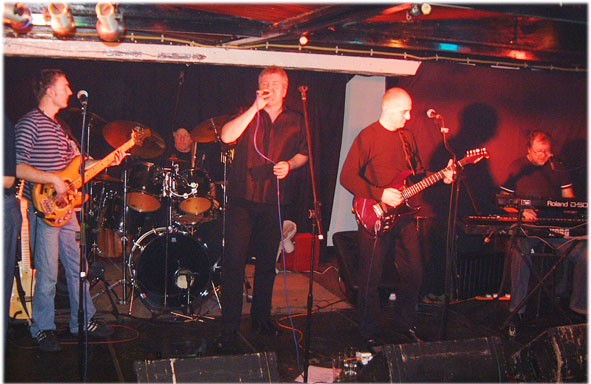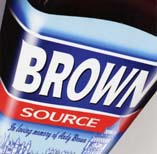 "Brown Source" Live Double CD, out now which captures the raw excitement of a fantastic night...
TO GET YOUR COPY CONTACT MAGGIE AT Barry's Mag.
---
BLUES IN BRITAN 2001 -
THE BEST OF BRITISH BLUES
Paul Cox has a track from his CD "Real World" included on the new Blueprint " Blues in Briton 2001" CD . This is the second time one of Paul's tracks has been included in this series. The track selected is "Rolling Back the Years" writen by Paul and Gary Moberley keyboard player with the band.
This is a very prestigious series of CD's which is not for sale to the general public, you can only obtain a copy from BluePrint, as a subscribers to that excellent publication.
Paul's CD "Real World" received a 9 out of 10 when reviewed by Frank Franklin in the magazine in May. The Real World album has been in there top twenty play list for most of the year.
For more information go to Blueprint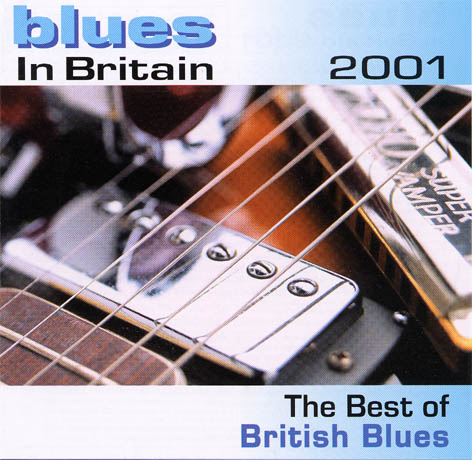 ---
Paul Cox on BBC RADIO - Sunday November 25th

Presenter Nick Dow interviewed Paul on BBC's Radio Lancashire's "Blues Notes". This very popular show is one of the most widely listened to music shows in the Northwest, it covers Blues, news and reviews from right across the county. Also interviewed on the show was Bill Wyman.
Nick played two tracks from Paul's new CD Real World, the title track "Real World" and "Rolling Back the Years". Paul has many fans in the Northwest, the feed back from the show was very positive.
One question that was asked was would Paul consider himself a Blues singer ?
What do you think, contact Paul and let him know your opinion.
CONTACT Paul
---
Opening of the Tickled Ivory, Church St., Reigate
A great night was had by all at the opening of the new Tickled Ivory, Piano Bar in Church Street, Reigate, on October 24th 2001. This is a fine venue has a great vibe, catering to an audience that appreciate real music played by real musicians. We wish them every success for the future, Check the web site to see when Paul is appearing again. He will be there on New Years Eve for sure.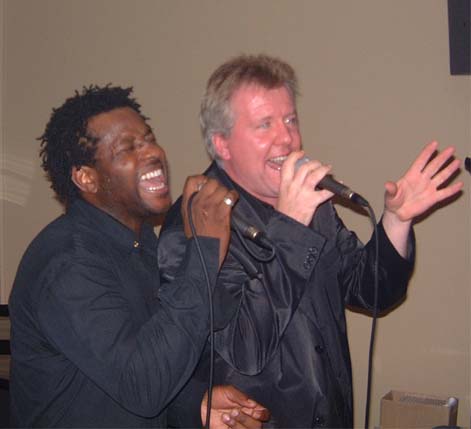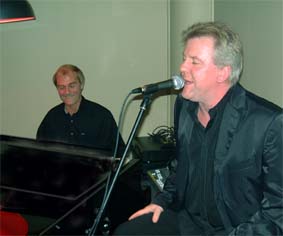 Paul sings the blues with Chris Parren on Piano.
Paul and Stephen Baylis finalist on BBC's "Star for a night" Get things rockin'
---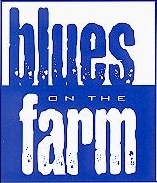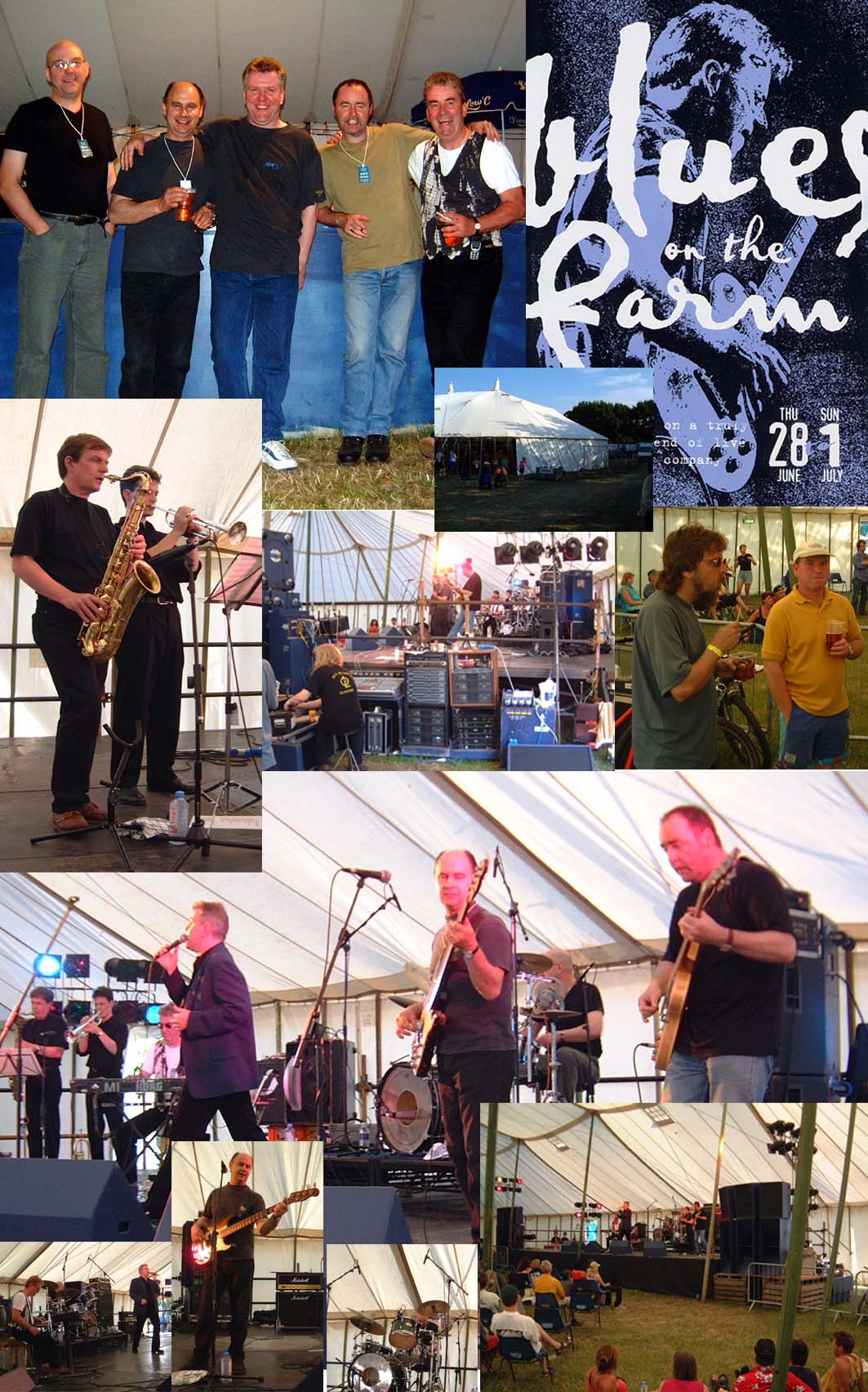 BLUES ON THE FARM
@ Pump Bottom Farm, Chichester.
1st July 2001

To finish the weekend off was the Job of The Paul Cox Band. The man (Paul Cox) fronts a seven-piece outfit with the panache of Tom Jones. They play a good variety of blues such as a bouncy honky tonk 'Rollin back the years', and even some funky blues. Paul and his band wrapped the weekend up in true party style, managing to get most people up dancing. The old classic 'Change is gonna come' was the encore, played with respect and care it rounded things off nicely. This is my fouth year at this festival, and I can't wait to make it five. Cheers Jules, you done it again.....

Big Nigel Martin - BLUES MATTERS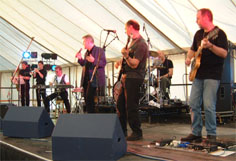 ---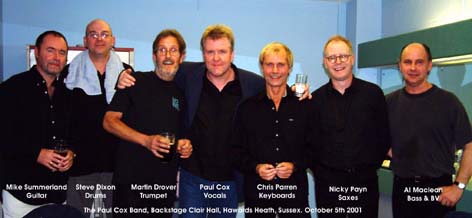 The Paul Cox Band at Clair Hall, Haywards Heath Sussex. - October 5th 2001 - Mike Dandrige

We were treated to a show that had the crowd shouting for more long after the final encore. This band with out a doubt is one of the best kept secrets working on the UK club circuit, Paul Cox and his band of accomplished musicians, had the audience eating out of their hands by the second number. Playing a mix of tunes from their own back catalogue together with a selection of blues and soul standards.

The band included Nicky Payn on Saxes (fresh from his outing with Bill Wymans Rhythm Kings he has been on a world tour for the last four months) it was nice to see him back teamed with Martin drover on trumpet, I personally always like to hear the band with a horn section.

Mike Summerland is a guitar player that has the complete range a tone shades and sounds at his finger tips, whether it be the blistering heavy metal tones required for John Hiatt's "Paper thin", or the soulful blues on Etta James's "Poring Water on a drowning man". The outstanding rhythm section pairing of Steve James. on drums and Al Maclow on bass are to die for, they are rock solid.

On keyboards was Chris Parren, standing in for Garry Moberley (who is in on tour in Australia) Chris played a blinding set showing why he is one of the most sought after session men in the UK.

Paul Cox was in fine voice singing songs from his new CD "Real World" which already sound like classics to me, Paul is the complete showman interacting with audience and performing his socks off. As Paul Jones said of him on his radio show " the best voice in the UK" and who would disagree with him, on the evidence of tonight's high energy performance, certainly not the crowed at the Clair Hall. I can't wait to see him the band and the "Kick Ass" horn section again.
Mike Dandrige - JAZZ BLUES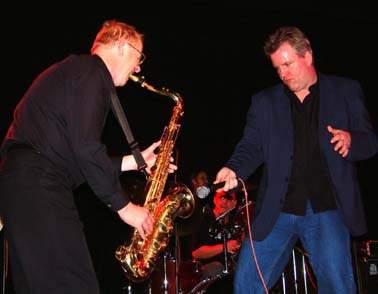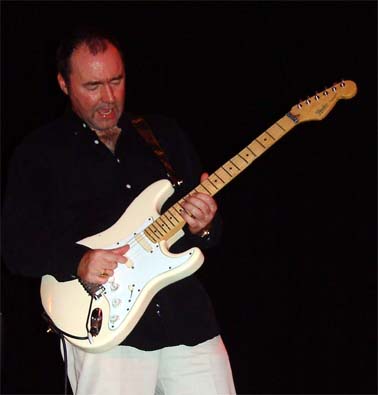 Nicky Pyne & Paul , give it large....
Mike Summerland, turns up the wick....
THE BLUES BROTHERS, OTHER BROTHERS at GREAT YARMOUTH

Paul Cox has just finished a very successful 8 weeks as Ellwood Blues in the Blues Brothers others Brothers review show, also on the bill was Tina Turner alias Marsha Raven. Jake Blues was played by Al Maclow. The all star band included, Mike Summerland -Bass, Richard Simmons - Keys, Steve James. - Drums, Steve Farr - Baritone Sax, Jason McDermot - Trumpet, Jason Bruer - Tenor Sax and Dave Williams - Guitar.

Every night they played to enthusiastic audiences who gave them a standing ovations.

---

Chris Parren at the Borderline, London - Dec 2001

After a two month in the Paul Cox band standing in for Gary Moberly, Chris got the call from Jim Capaldi (Trafic,etc) to play in his new band they opened their European tour at the Borderline.

Chris is pictured playing the Hammond "B3"

---

ADD YOUR OWN NEWS ABOUT NOTE ARTISTS

This is our new web site, we would appreciate any helpful comments or suggestions as to what you would like to see included, please let us know at

If you have see any of the bands and would like write a review or send us a photo for inclusion on the site we would be pleased to here from you.

If you would like to be added to our data base to receive advanced information about Paul Cox, etc. please send us an email.

Thank you for stopping by.

Blake.

---