---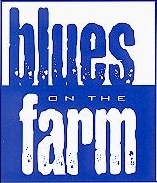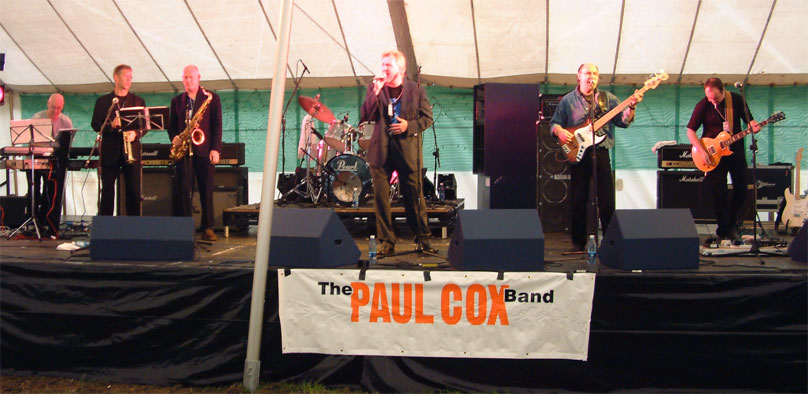 BLUES ON THE FARM

Pumpbottom Farm,
Appledram, Chichester,
West Sussex.PO20 7EH.

Saturday June 29th 2002
A large crowed at Blues on the Farm on Saturday 29th June 2002 saw Paul Cox and his Band put on a stonkin' show and judging from the audience reaction they will be back next year, The Paul Cox Band had the audience dancing from the first bar of their set.
This is second year that Paul and his band have played this magnificent event, they followed Hershy and the 12 Bars to the stage and handed over a hot audience to the excellent Hubert Sumlin Band who followed them.
See the set list. there were stand out performances from the Band with Dave "Munch" More on keyboards, Mike Summerland on Guitar and the rhythm section of Steve James. on drums and Al Maclow on Bass. Plus the kicking horn section of Nick Pentilow on Sax and Sid Gould on trumpet.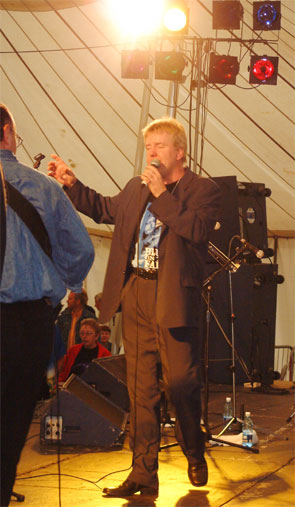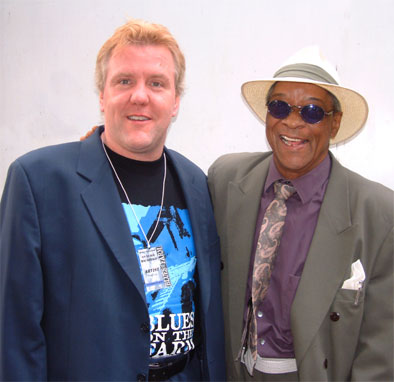 Review from Blues Matters
Paul Cox next, I enjoyed Paul's set last year so I was looking forward to seeing him again. Whilst the Paul Cox band were setting up, Mike Summerland just moved his set up from one side of the stage to the other Having just give it his all in Hershy and the l2 bars, he was about to repeat it in the Paul Cox band. For the next hour or so we are treated to a mix of blues and soul, Paul has a great voice, which is supplemented by a great band. This is pure entertainment, the music, the humour it's what Saturday nights were made for Paul and the band laid great tunes on us, such as "Brickyard blues", "Paper thin", "real world" and of course the classic "Hold on I'm Coming" it was breath taking. Half way through the set I noticed that the keyboard player was none other than Hershy's Dave 'Munch' Moore, how do they do it? Before he went on Paul and his manager were laughing at me calling him the Tom Jones of blues last year well after the soft shoe shuffle he treated us to he must now be known as the Lionel Blair of blues. Hopefully see you next year Paul.

Big Nige Martin - Blues Matters - Nov. 2002
Paul and Blues veteran Hubert Sumlin prior to their sets.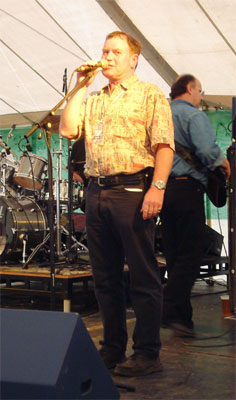 Mr Julian Moores your promoter and MC, the best show in the West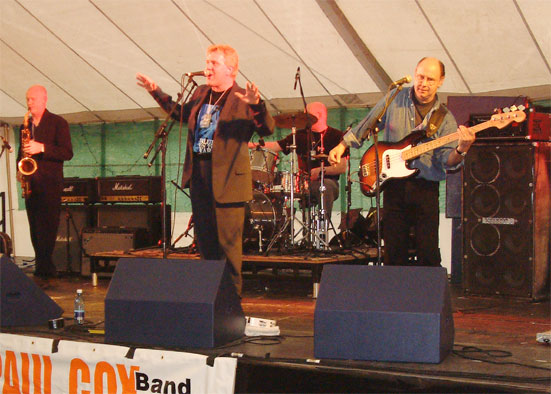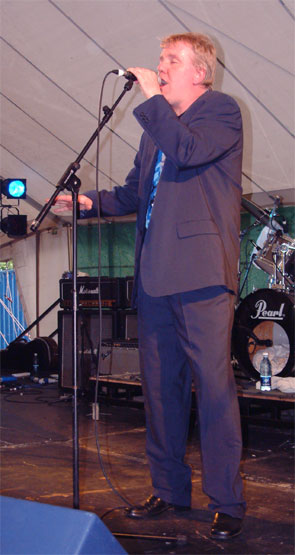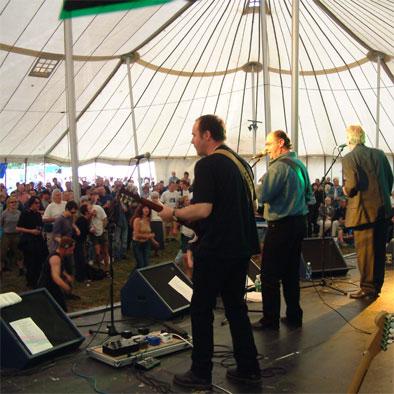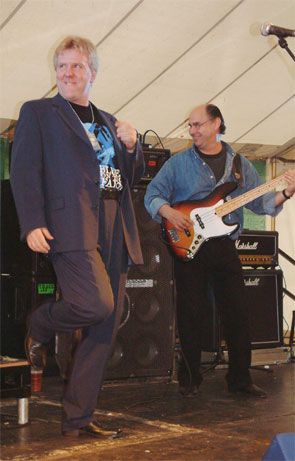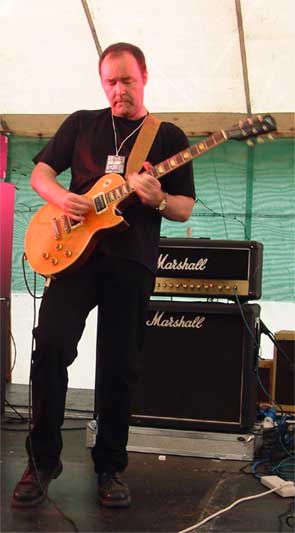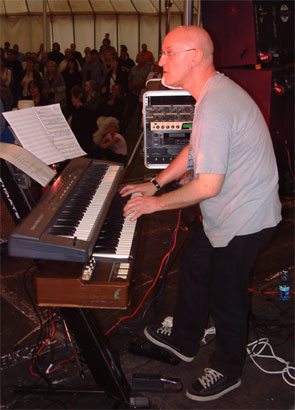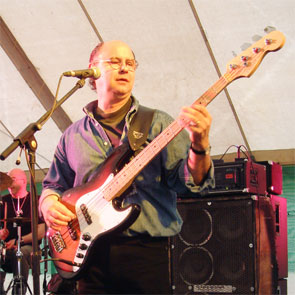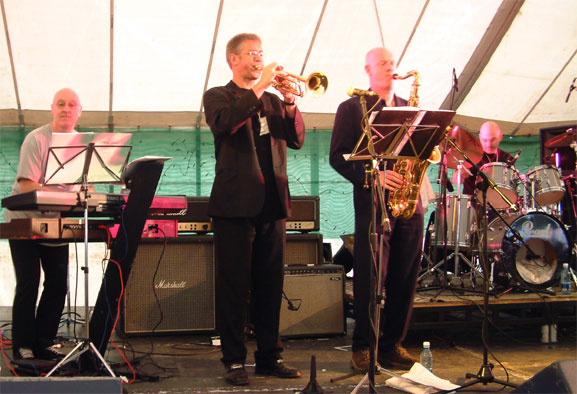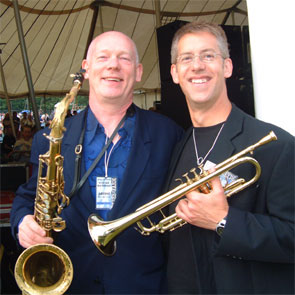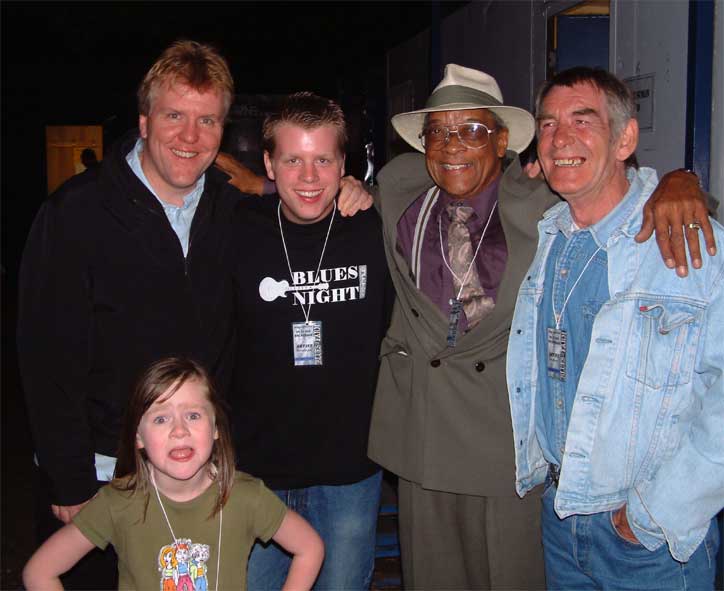 The Horn Section Nick Pentelow and Sid Gould.
Paul, Danny Bryant (Redeye band), Hubert Sumlin, Ken Bryant (Redeye band) and Miss Summerland.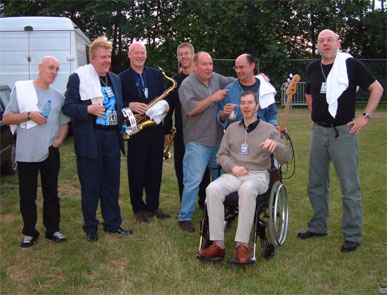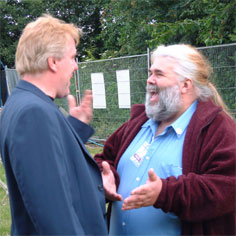 Dave Moore, Paul Cox, Nick Pentelow, Sid Gould, Mike Dandridge(crew), Al Maclow, Richard "Hershey" Shirman and Stevie B.
Paul and Big Nige from "Blues Matters!"
---