---
A large crowed was at The Warrington Blues Festval on Saturday 14th June 2003 to see the Paul Cox Band close the festival.
There were stand out performances from the Band with Gary Moberley on keyboards and Mike Summerland on Guitar and the rhythm section of Tommy O'Donnell on drums and Al Maclowe on Bass. Plus The Stonkin Horns = Gabriel Garrack - Trumpet and Pat Kyle Sax. See the set list.
Paul was Joined on stage by Nicky Moore for "Ain't Gonna Be The First To Cry" and Marcus Malone for the encore "Take Me To The River" a great end to fantastic fest of the Blues at Warrington.
NOW AVAILABLE.......
Live! CD of the Festval..
Paul Cox, Nicky Moore, Honeyboy Hickling, Connie Lush, Smokehouse Blues, etc.
Contact; Ray O'hare
Tel: 01925 488009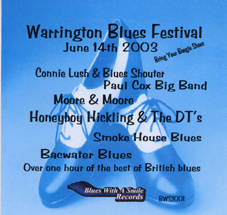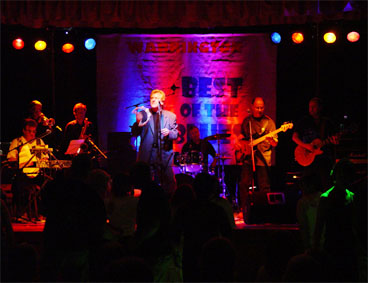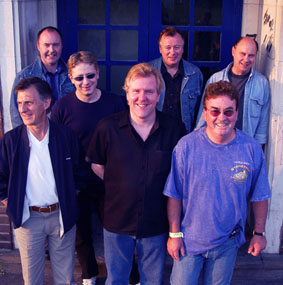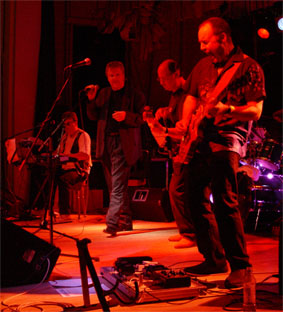 Left to Right; Pat Kyle, Mike Summerland, Gabriel Garrick, Paul Cox, Tommy O'Donnall, Gary Moberley and Al Maclowe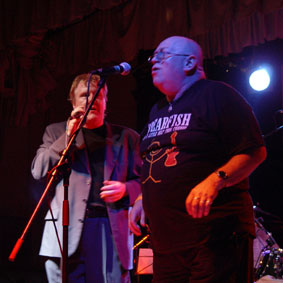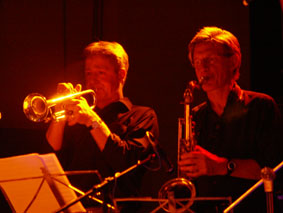 Paul and Nicky Moore sing up a storm on
"Ain't Gonna Be The First To Cry"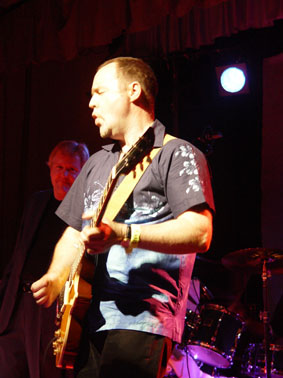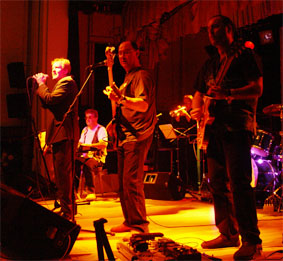 Mike Summerland let's them have it
(nice shirt)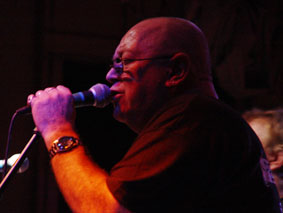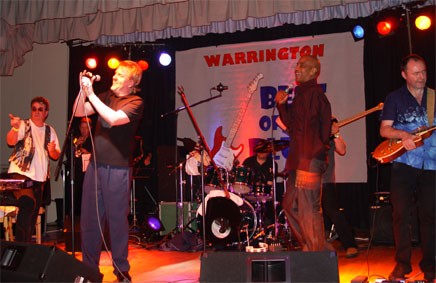 Marcus and Paul get a big reaction from the audience.
Nicky Moore gives it large....
---
REVIEW
BLUES IN BRITAIN - July 2003 - Lionel Ross.
The headline act of the evening was the Paul Cox Band, supplemented on this occasion by the Stonkin' Horns. It's difficult to imagine what must have been going through Paul's mind as he took to the stage. He gave a thinly veiled hint when he reflected: "You've had six great bands – now you've got us". You must've been 'avin' a larff, old son. "That's The Way I Feel", Delbert McClinton's "Shaky Ground" and John Hiatt's "Paper Thin" give a flavour of the numbers that received the full Paul Cox treatment – his tremendous voice combining power, depth and control in equal measures. Then came the icing on the cake, when Paul was joined first by Nicky Moore on "Ain't Gonna Be The First To Cry" and then by Marcus Malone on "Take Me To The River": a fabulous end to a magnificent day.

The only negative note to be sounded is that Ray and Barbara O'Hare still haven't learned the basic lesson that, if you stage a festival featuring the cream of British blues artistes, it is impossible to maintain the standard the following year. Come to think of it, we told them that last year. Some people never learn, thank goodness.

Back Stage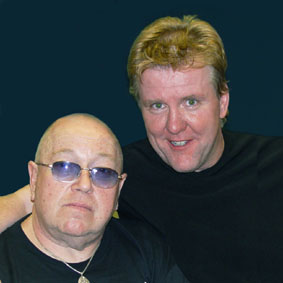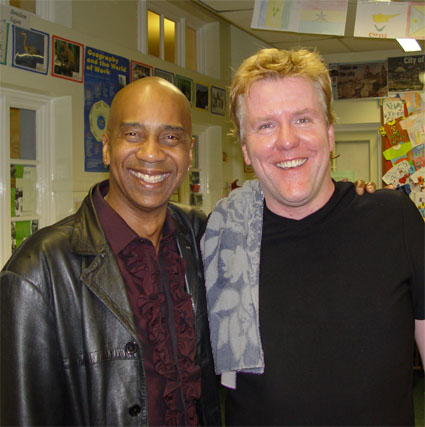 Paul and Marcus Malone
Paul and Nicky Moore
---