To Get a Copy of Mark's Album click here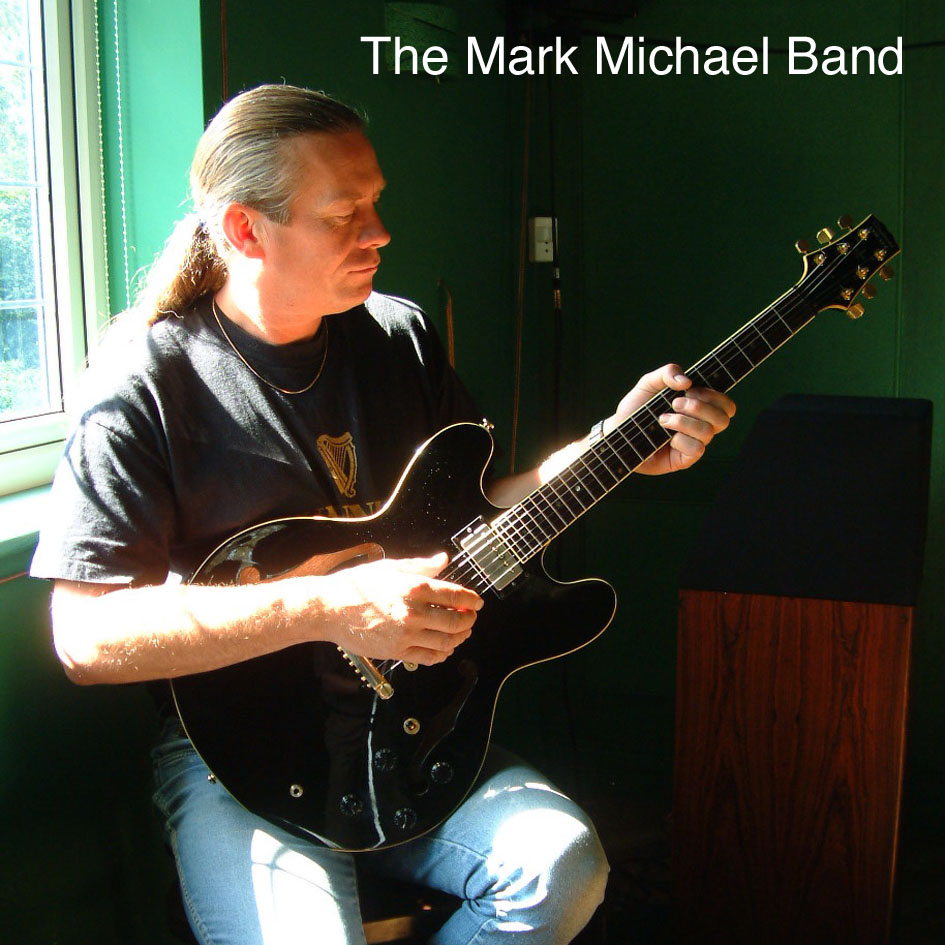 THE MARK MICHAEL BAND
"STEPPIN' STONE"
MARK SIMKINS
Note Music recording artist
Steppin' Stone is The Mark Michael Band's first album for Note Records.

Singer songwriter, guitar virtuoso Mark Simkins is the main driving force behind the band, Mark for many years has been the guy that musicians call when they need his individual guitar sound on a recording or a dynamic performance on stage. He has now step into the spotlight with this new album of his own original material performed by him and his powerful new band,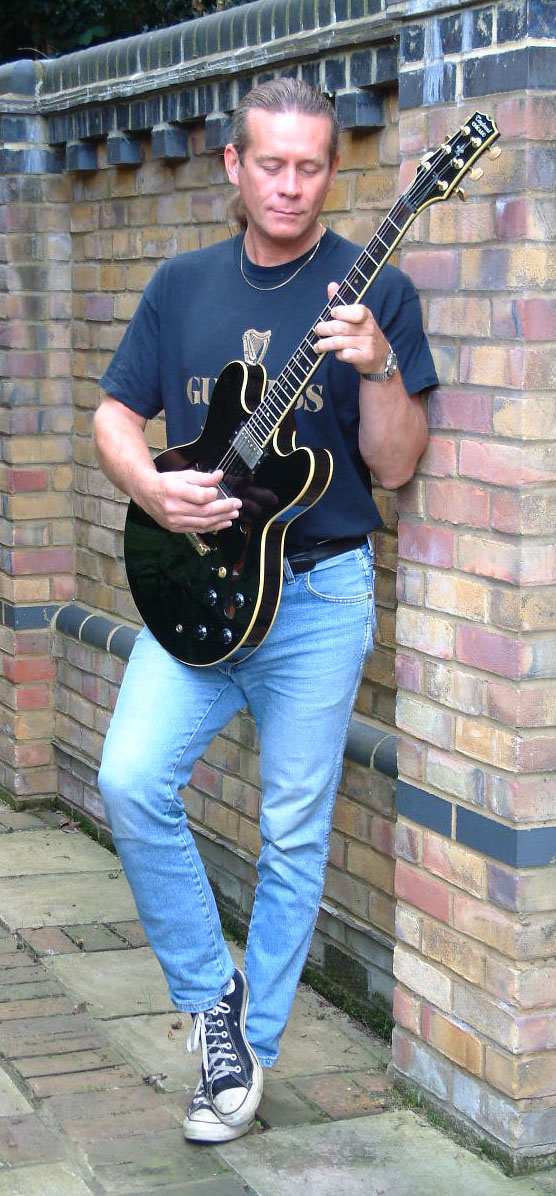 Tracks
1 FOOL TO FALL / M SIMKINS (AUDIO CLIP)
2 IT'S ALL OVER / M SIMKINS
3 WAITIN' FOR THE NIGHT / M SIMKINS
4 NICE AND SLOW / M SIMKINS
5 STEPPIN' STONE / M SIMKINS
6 GOT THE BLUES / MICKEY BAKER
7 FAT STRAT BOOGIE / M SIMKINS
8 WHO CHANGED YOUR MIND / M SIMKINS
9 ALL MESSED UP / M SIMKINS
10 EMERALD ACE/ M SIMKINS
11 PERFECT LOVE / M SIMKINS (AUDIO CLIP)
12 BAD THINGS/ M SIMKINS
13 SHADES OF BLUE / M SIMKINS

Musicians
Mark Simkins - Guitars and Vocals
Stevie Stokes - Bass
Steve James. - Drums
Roger Cotton - Keyboards

Infomation
Recorded at Roundel Studios,
Horton Kirby, Kent.
Produced & Engineered - Roger Cotton
Executive Producer - Blake Powell
Photos- Nina & BJP

THE MARK MICHAEL BAND -
2002 – "Steppin' Stone"

"Steppin' Stone" is Mark's first CD release on the Note Record label with his new outfit The Mark Michael Band.

Top UK musicians Steve James. (FBI, Ray Davis,etc) join Mark for this on drums together with Stevie Stokes (Suzi Quattro, Slade and Sweet) on Bass. They are augmented for this album by the multi talented Mr Roger Cotton (Peter Greens Splinter Group) on keyboards who also produced and enginneered the album. This full frequency DDD digitaly recorded album was recorded at Roger's Roundel Studios in Kent.

This varied Blues-Rock album contains 13 track all but one penned by Mark, who is featured on a range of acoustic and electric guitars. The first track "Fool to Fall" a driving soulful blues with percussive organ work from Roger, The second track "It's all Over" starts with an acoustic guitar an develops into a jazzy groove with solid bass work from Stevie. Mark's soulful vocal interpretation of Micky Baker's "Got the Blues". is just another high light. The up-tempo "Fat Strat Boogie" features some nice work from Stevie on the drums. "Emerald Ace" is Mark's tribute to one of his guitar heroes Rory Gallagher working a number of his song titles into the lyrics. " Perfect Love" is acoustic love song with a twist, the final track " Shades of Blue" is a smooth jazz type acoustic instrumental. This is a stunning first album from a real guitar ace, you will not be disappointed .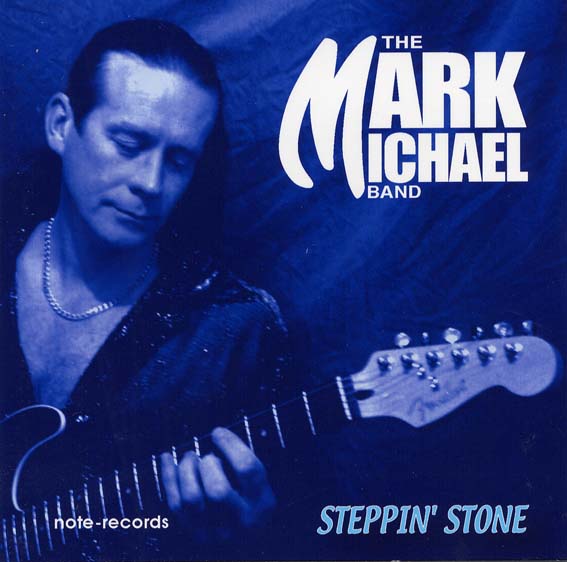 First Review from Blues in Britan

The Mark Michael Band
Steppin' Stone

Note Records NCD 1003 2
Mark Simkins, who leads the band on vocals and guitar, is a highly respected session musician. On this album, for which he wrote twelve of the thirteen tracks, he takes centre stage and fully demonstrates his considerable talents. He has a good voice and is an excellent guitarist. The general mood of the album is slow, gentle and mellow, and the music is decidedly more rock than blues. The slowly rocking first and third tracks, "Fool To Fall" and "Waitin' For The Night", typify the mood of the album, displaying an uncanny resemblance to the guitar style of Out Of The Blue's Eddie Tatton. In contrast, "Nice And Slow" has a funky feel about it and the title track, "Steppin' Stone", is an upbeat R&B number. The album closes with more contrasting styles: "Perfect Love" is a slow ballad, "Bad Things" an upbeat blues rocker and "Shades Of Blue" a melodic instrumental. It is a very enjoyable and well-balanced compilation.


Rating: 8
Lionel Ross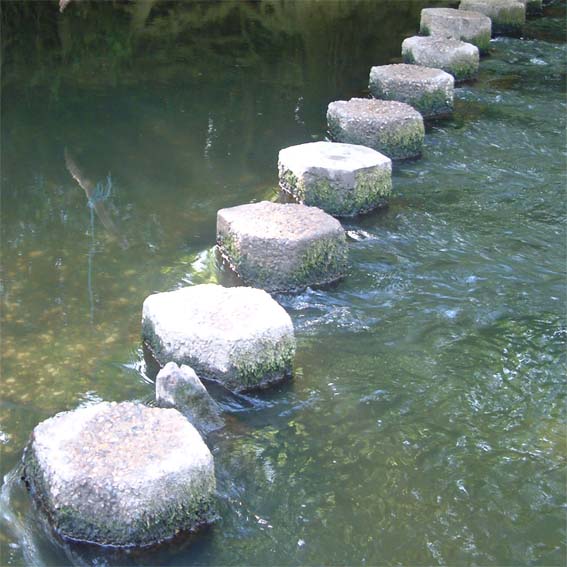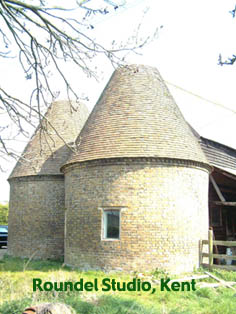 Steppin' Stones at Boxhill, Surrey
---
MARK SIMKINS – Guitars and Vocals
Born in Clapham, South London in 1959, Mark didn't pick up the guitar until he was 20. He started out playing and in local groups "The Feel", "Ouch" and "Chippy Mintons Revenge" after this period of change and development he formed his own Band Jinnhouse.
Jinnhouse
started out by playing mostly covers until Mark started developing his own song writing ability. Jinnhouse are still going strong, performing a mix of original material, classic rock and blues numbers. The Mark Michael Band is the future for Mark.
Marks influences include Rory Gallagher, Wishbone Ash. Steely Dan through to Larry Carlton, Lee Ritenour. Mark has worked with a number of other bands which include, The John Slaughter Band, AAA, The Glitter Band and for 10 years a main member of the
The Paull Cox Band
.